Pradhan Mantri Jeevan Jyoti Bima Yojana The Indian Central Government has launched this life insurance scheme for poor people in society. This scheme was launched by Indian Prime Minister Narendra Modi. This plan covers both the natural and accidental death of the person.
Pradhan Mantri Jeevan Jyoti Bima Yojana is providing yearly life insurance coverage of Rs 2 lakh after the demise of insurance candidates. The policyholder needs to pay Rs 330 per year.
Pradhan Mantri Jeevan Jyoti Bima Yojana Scheme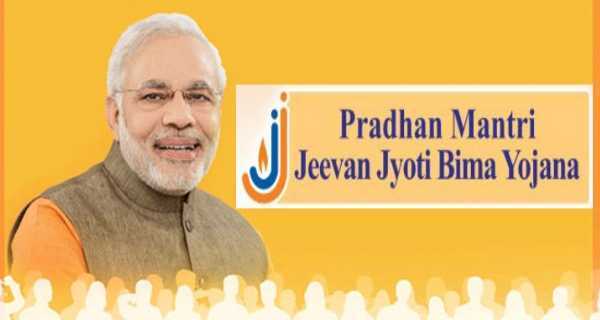 | | |
| --- | --- |
| Scheme name | Jeevan Jyoti Bema Yojana |
| Launched date | 9th May 2015 |
| Implemented by | PM Narendra Modi |
| Sum Assured | Rs 2 lakh |
| Policy term | 1 year |
| Maximum Maturity Age | 55 years |
| Lien period | 45 days from enrolment date of the scheme |
Eligibility for Pradhan Mantri Jeevan Jyoti Bima Yojana :
Applicant age should be 18 to 50 years
Candidate should have to maintain the savings bank account in any bank
The person needs to join this scheme with self-certified of good health in consent declaration form on the date of enrollment
Candidates who join the PMJJBY scheme after last date enrolment period they will have to submit the self-attested medical certificate as proof (that he/she is not suffering from critical illness)
[wp_ad_camp_1]
Scheme premium details that paid by an applicant:
Under this scheme, the applicant needs to pay Rs 330 per annum
Here this 330 will calculate as
Insurance Premium to LIC or insurance company: Rs 289 per annum
Reimbursement of expenses to Micro/BC/Corporate/Agent: Rs 30 per annum
Reimbursement of administrative expenses to any bank: Rs 11 per annum
Main Features of PMJJBY:
It is very important for the policyholder to renew that policy each year
Premium payment will deduct from the bank account in the single installment. To maintain the required balance
Yearly premium payment is Rs 330
This scheme will offered and maintained by Life Insurance Corporation and also the other life insurers that are willing to join the scheme with banks
The applicant needs to provide the nominee name and also other details like relationship etc
The Government contribution towards scheme is to decide separately every year
This contribution amount to paid by Government will come from unclaimed money in various public welfare funds
List of a required document for PMJJBY:
Recent applicant passport size photo
Applicant aadhar card
Apply for Pradhan Mantri Jeevan Jyoti Bima Yojana scheme:
Eligible and interested candidates need to download the application form through official website http://www.jansuraksha.gov.in/FORMS-PMJJBY.aspx
This PMJJBY scheme form will be available in different languages like English, Hindi, Gujarati, Odia, Kannada, Marathi, Tamil, Telugu etc
Download the application form and fill it manually
This dully-filled application form has to submit to any bank branch
You should need to maintain the minimum balance in your account
Benefits offered by PMJJBY:
This scheme provides risk coverage of 1 year and the renew the policy yearly
If in case the demise of the insured person the PMJJBY provides the death coverage of Rs 2 lakh to a beneficiary of a policy
This scheme is the pure term insurance policy, it does not offer any maturity or surrender benefit
Premium paid towards the policy is eligible for tax deduction under section 80C of Income-tax Act
If the insured person fails to submit the form 15 G/H then life insurance proceeds Rs 1 lakh will taxable by 2%
The plan has the simplest process of switching and enrollment
Claim for Pradhan Mantri Jeevan Jyoti Bima Yojana:
If in case the insured person dies then-nominee can claim this Pradhan Mantri Jeevan Jyoti Bima Yojana
The first nominee must visit the bank (where the applicant opens the account)
After that collect the PMJJBY claim application form and Discharge receipt from the concerned person
Or you can also download the scheme claim form through official website http://www.jansuraksha.gov.in/FORMS-PMJJBY.aspx
Submit the death certificate and Xerox copy of the Cancelled check with a claim form
Claims will be transferred to the nominees' bank account that can receive in more than 60 days or 2 months
What role will Bank play?
The bank will play some other roles as well. The primary duty is to transfer the decrease the premium to insurers. The bank holders also can take care of the below mentioned once
Enrollment forms
The authorization of Auto Debit
They also provide the declaration cum consent form in except shape that they are supposed
At the time of applying this scheme aadhar card is considered as primary KYC documents. Applicants have to subscribe to this scheme every year in the month of June. Applicants may exit the scheme at any point and also rejoin the scheme in future years by paying the annual premium at the bank and submit the self-declaration form of good health of the user
Also Read: Beti Bachao Beti Padhao Scheme Yojana